We're bringing some player appreciation events to MapleStory! Join us for two new events that celebrate YOU!
Player Appreciation ReVVard
Wednesday, January 18 – Tuesday, February 7
As a thank-you to all of our loyal players who joined us for the MapleStory V updates, we're giving out free gifts to show our appreciation! If you logged in to MapleStory with a character Lv. 33 and above between November 30th and January 18th, then you can receive your gifts from the in-game notifier. You will receive all kinds of amazing items including Royal Hair and Face coupons, 3x EXP coupons, Selective 8 Slot coupons,Safety Charms, New Year Coins, and even a V Flame Chair! You can receive these gifts one time per account.
Click here to learn more!


Maple VVorld Records
Wednesday, January 18 – Tuesday, February 7
It's a new year, which means it's time to achieve those goals! Strive for success and set world records as you play by performing goals like defeating the highest numbers of monsters, dying the most times, picking up the most items, and more. Characters Lv. 33 and above can participate by clicking the Maple VVorld Record icon on the left side of the screen. Records are hidden and you have to solve hints to find out what they are.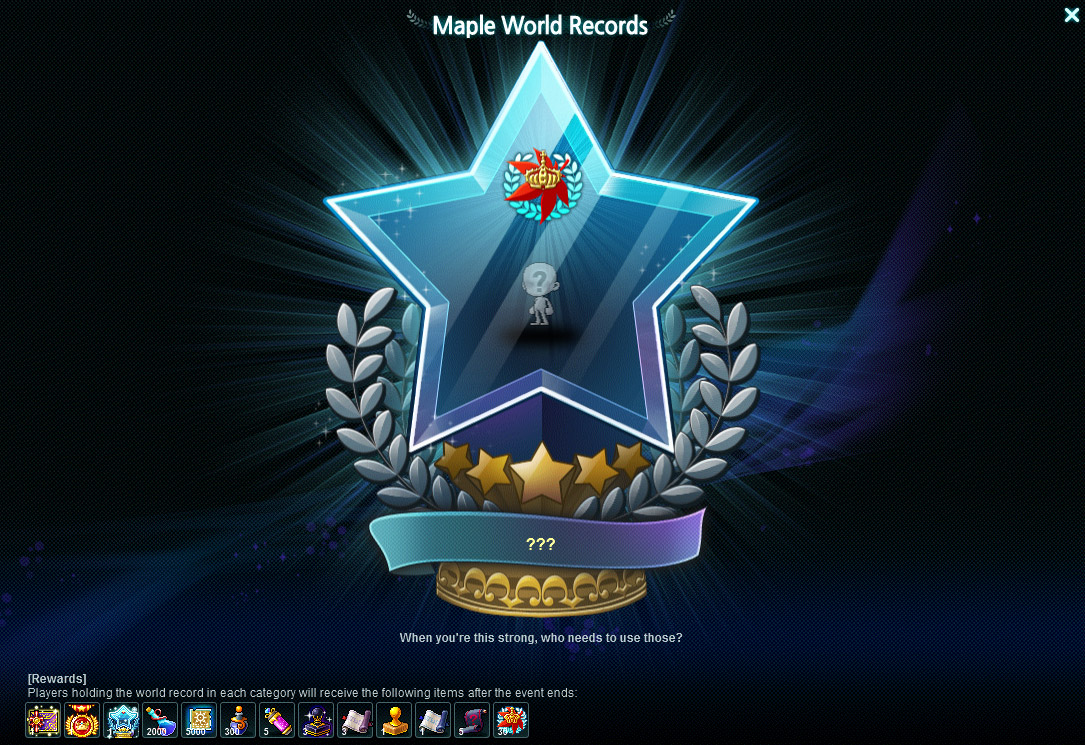 When you reach the minimum number for a record, you become a Record Holder, and the record will be added to your list of completed records. If you manage to reach the highest number out of all the players in that world, you become a World Record Holder for that world.

Make sure to register the record by selecting the "View my record" option from the Maple VVorld Record icon on the left side of the screen. NPC Ms. Record will make sure it's been documented properly, and a notice will be sent to the entire world sharing your achievement!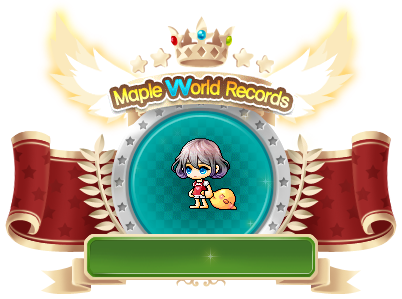 You will also receive a special title documenting the world record you hold. Once someone beats your record, they will gain the title instead. Use the Maple VVorld Record Book to keep track of who holds the current records in your world and see what you need to do to beat them!
As you keep collecting records, you'll earn reward boxes (one of each box per character per world). These boxes are stuffed with items such asrestorative items, Spell Traces, EXP and Drop coupons, effects, potential items, medals, and more!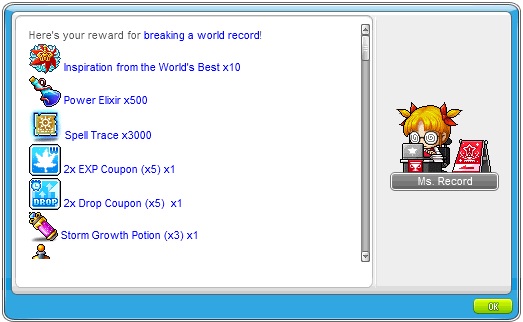 The players who hold the final world record for each world will also receive a special reward box containing The Best Around medal, The Best Around chair, 100,000 Maple Points Coupon, in addition to the various items listed above!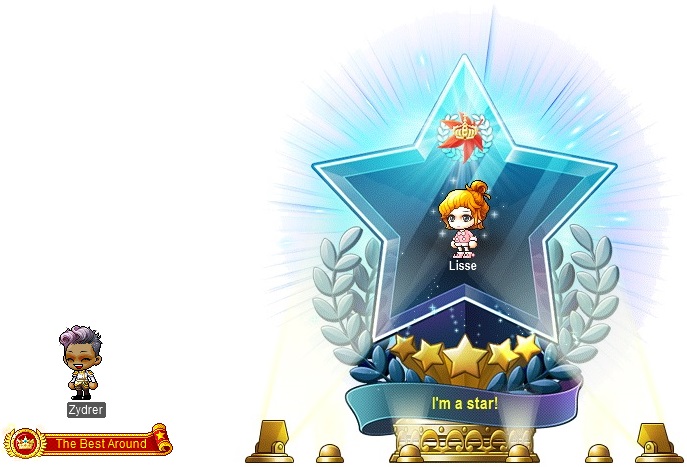 Click here to learn more!